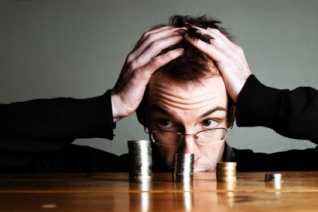 During times of economic downturn many people look to starting a business. Either out of necessity or spotting a genuine niche in the market.
If you're able to offer increased value at lower costs, then starting a business during an economic downturn could put you in a favourable position when economic conditions improve.
Whenever you start a business it can be a stressful time. In this post we look at structuring your business plan to make it easier to obtain funding and minimise the investment capital required.
As we said in out post on Writing a business plan on a single page. Writing down your objectives and plans is more likely to make them happen than if they stay as ideas floating around. So, start with the plan. Make sure your plan is concise and accurately reflects what you're going to do. Review the plan with others making sure that they 'get it'. If they don't, you need to start again.
Although most people like to think that they will go to the bank or get venture capital funding, in reality, given the current economic climate you are more likely to get funding from one of the following funding sources:
1. Sources of funding

Generally speaking, there are 4 types of business funding:
Friends, Family and Fools
Grants (difficult to obtain if you're not located in a regional development area or have green credentials)
Banks – personal loans
Credit cards
To obtain grant funding they will want to see you business plan, as will friends, family or fools.
2. What to include in your business plan

Our post Writing a business plan on a single page lists out the key headings you should use in writing your business plan for your start up business.
However, you need to give serious thought to the content:
3. Don't pay yourself

Investors, whether they are freinds, family of fools, will like to see that you have as much too loose as them. Treating yourself as investor will show that you have 'skin in the game'. This is not to say that you shouldn't be paying yourself, but your income should come out of profits, not out of expenses. Just make sure that you have enough funds to keep youself going whilst the business turns a profit. Rule of thumb, have twice as much funds as you think you'll need.
4. Make your money go further
With many businesses struggling at the moment, it may be possible to pick up second hand equipment from auctions or sales by the administrators for those businesses which have already gone to the wall.
3. Marketing Strategies
There's no reason why you can't include the use of social media tools such as Facebook and Twitter in your marketing programme. As a start up, cost effective tools to get you noticed are what you need – think low cost and how you can get as much publicity as possible with it costing as little as possible.
4. Shop around

Sites such as Elance allow you to post jobs such as web design, graphic design or admin work (virtual assistants). Elance is a bit like a E-bay for business. You post your jobs and suppliers bid for the work. Quite often low cost overseas companies will bid and you'll be surprised at the cost savings. I personally have had work undertaken in Argentina, China, South Africa and India, often good quality, for a fraction of the cost I would have paid using more traditional methods..
Investors will be keen to see you're saving money. Show in your plan where you have cut costs and the savings you'll make.
5. Show me the money

In addition to demonstrating you're cost effective, show all the ways your new start up business can grow its revenue model; for instance, by bringing customers in free and finding creative ways to earn revenue later.
For web based businesses, your business plan should show your phases of income generation; will you offer forums and advice for free to get people using your site and then eventually phase in a low-cost model for monthly services? Will you include affiliate marketing or e-books that will bring in extra revenue?
For more help and advice please see about are coaching and mentoring services